For the upgrades, XTM-Racing's X-Cellerator spends some time on the workbench again: The 27 turns stocker simply does not do the trick if you get used to the X-Cellerator or have had offroad experience before.
To check what the chassis and drivetrain are up to, I decided to go brushless: A Lehner Basic 4200 and later a Hacker C40-8S, both under control of the trusty but expensive Schulze U-Force 75 get their power from a pack of pushed and matched GP 3700 cells. The stock pinion gets ditched for Robinson Racing's chrome plated 23t version.
The shocks get their overhaul as promised in the first part of our review: 25wt oil inside, orange (front) and red (rear) losi springs around give the X-Cellerator just the lush suspension that is so special to stadium trucks.
Now the X-Cellerator can really show what it's made of!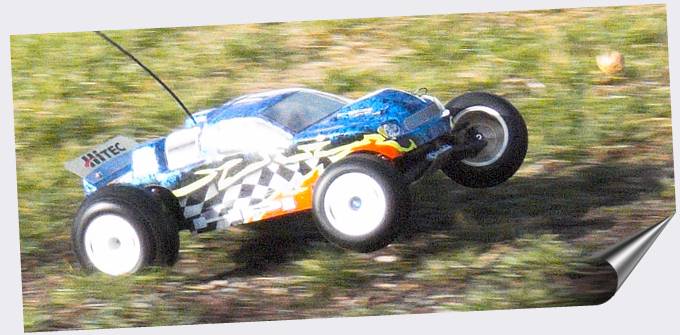 And the XTM-truck does it! The tyre compound is basher-friendly and kind of semi-hard to even survive some driving on concrete, but the tread with its bars in the middle gets good traction on grass and loose soil. It's just not the right choice for hard packed surfaces that will need smaller studs.
A properly set slipper makes accelerating the X-Cellerator easy and spares the ball diff. My only gripe would be the steering throw: a little more would be better, especially on the outside wheel.
The reworked shocks are perfectly up to their task, providing a smooth ride without losing oil (thanks to the foam volume compensators) and getting gritty (thanks to the makeshift shockboots).
So with each and every lap, my confidence in XTM-Racings budget-basher grows bigger and bigger - it's just fun to drive! The ball diff, often a problem with low-priced, high powered vehicles, remains solid as a rock - no chirping, no signs of wear, just as smooth as out-of-the-box. Really amazing!
XTM-Racing's X-Cellerator could really pass with an excellent 5/5 score in terms of ruggedness, if it wasn't for the chassis that wants to contribute its share.
"Drive a lot, fall a lot!" - a saying known to many motocross drivers.
It's just the same with us offroaders: not always are we able to keep our truck on track, not even with the X-Cellerator's fairly good handling. So, the XTM-Truck takes some blows - not more and not harder than usual.
Such a beating is returned with an unfamiliar snapping noise that sounds like trouble... big trouble!
Though I was prepared thanks to some online pictures floating around, it's still an awful sight ...
Shame on you, XTM-Racing. Instead of providing flexible arms that may bend or even break on an impact, they're beefy like they're straight from a 4wd. So the weak link is the kickup area: thin, flexible and obviously not up to the task. That's quite frustrating since an arm is easier and cheaper to replace than the whole chassis!
Well, that leaves us with two choices: Either buy a new chassis and drive very careful or get your tools out and do something to reinforce that critical area. Guess what I did!